Please Note: You are viewing a legacy website that is no longer being supported. [more info]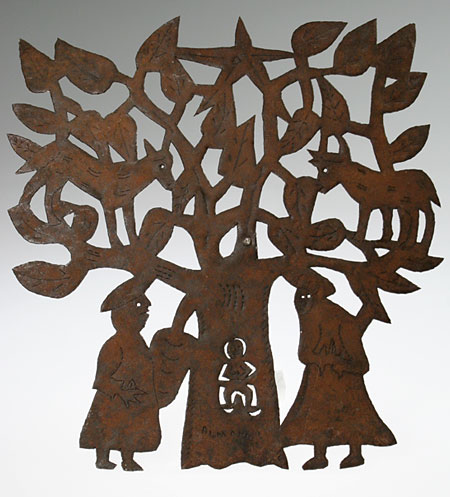 Tree of Life, a 20th-century flat, metal tree sculpture with cutout images.
Made by Almann, Haiti. Gift of Katherine Dunham.
On display at the Missouri History Museum in the Reflections Gallery.
Missouri Historical Society Museum Collections.
In the 1940s, 55-gallon steel oil containers came into Haiti carrying fuel reserves for navy ships.
The Haitians collected the emptied and discarded drums and found ways to put them to good use.
Metal workers in the small town of Croix-des-Bouquets flattened the steel and cut it into figurative
images that usually portrayed deities and spirits from their local religion (general information published
by the Museum of International Folk Art in Santa Fe to accompany a steel cutout pictured in its 2001
calendar), ca. 1975. Missouri Historical Society Collections.
All content © 1999 - 2006 Missouri Historical Society
Text or graphics may not be copied, rewritten or distributed in any manner whatsoever unless specifically noted,
and may not be reused, reprinted, or reposted without written permission.