he story behind the construction of the 1904 World's Fair is one of human perseverance—a testimony to the energy, investment, and commitment of St. Louis's citizens. The Fair was a highly orchestrated event, with its designers joining ranks with civic planners and an army of more than 10,000 laborers to transform over 1,200 acres of thickets and swamps in Forest Park and Clayton into a grand landscape filled with classically inspired buildings, waterways, gardens, and avenues. The opening of the 1904 World's Fair followed several years of preparation that included the development of surrounding neighborhoods, improvements to the city's water supply, and the clearing of parkland.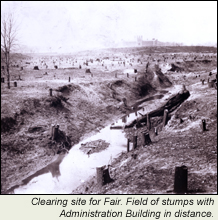 When the Louisiana Purchase Exposition Company's Executive Committee selected Forest Park in late June 1901, many St. Louisans were dismayed at the prospect of destroying the scenic beauty of Forest Park for the coming Fair. The Exposition's publicity staffers were quick to defuse these concerns with promises that the natural, rugged park would be "reborn" into a more civilized space.

The process of organizing, planning, constructing, and running the Louisiana Purchase Exposition changed St. Louis. The transformation of Forest Park from a wilderness of trees and thickets into a showcase of the latest thinking in urban design required an army of 10,000 workers who used cranes, tractors, horse teams, survey kits, blasting equipment, and freight trains to sculpt the land, lay sewer pipes and reroute the River Des Peres.

The Department of Works straightened the meandering River Des Peres and built a new covered wooden channel under the main avenue of the Exposition to keep polluted water originating north of Lindell Avenue away from the World's Fair site. Also constructed were new sewer lines under the park, which were connected to St. Louis's expanding sewer system.

George Kessler served as the chief landscape architect for the Exposition. He worked in concert with his on-site supervisor, D. W. C. Perry, to direct teams of surveyors who produced topographical maps, coding the land with numbered wooden stakes placed at 50-foot intervals. From these codes, Kessler directed the immediate clearance of 200 acres of selected trees and underbrush, mostly elms and sycamores, whose stumps had to be blasted out with dynamite. His staff marked hundreds more trees for transplantation and use on the Fair site and constructed extensive greenhouses and horticultural beds on the Tesson Tract to supply Kessler's sculptural vision.