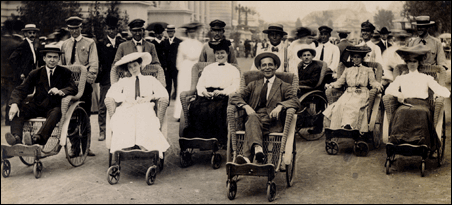 Hours
The 1904 World's Fair: Looking Back at Looking Forward opens to the public on May 2, 2004 at the Missouri History Museum during the following hours:
Wednesday through Monday
10 a.m. - 6 p.m.
Tuesday
10 a.m. - 8 p.m.
Tour Groups
Groups of 15 or more can make advance reservations and receive special admission rates. For more information, please contact our Cultural Tourism Department: (314) 361-9017 or email reserv@mohistory.org.

Student Groups
Advanced reservations and student admission rates are available by calling (314) 361-9017 or email reserv@mohistory.org.

One day Study Tour - 1904 World's Fair

A wonderful and nostalgic tour guides you through Forest Park, museum exhibitions, historic sites, and original buildings.
Click HERE to download a .pdf file with more information.

Explore St.Louis
www.explorestlouis.com
Travel Portal provided by the St. Louis Convention & Visitors Commission. This web site features complete travel information for St. Louis visitors, and resources and planning assistance for group tour planners and meeting planners.